Spoiler Alert! Yes, You Can.
With Civil Tracker you can map and survey with the Mavic Mini, Mini 2 and Mini SE. We believe a whole new generation of drone mappers is about to start flying.
Have you been holding off on drone surveying or mapping because the rules are complex and the cost is high? Are you wondering how you can map and survey with the Mavic Mini?
We've explored these questions and more over the last few weeks and we're excited to share what we've learned.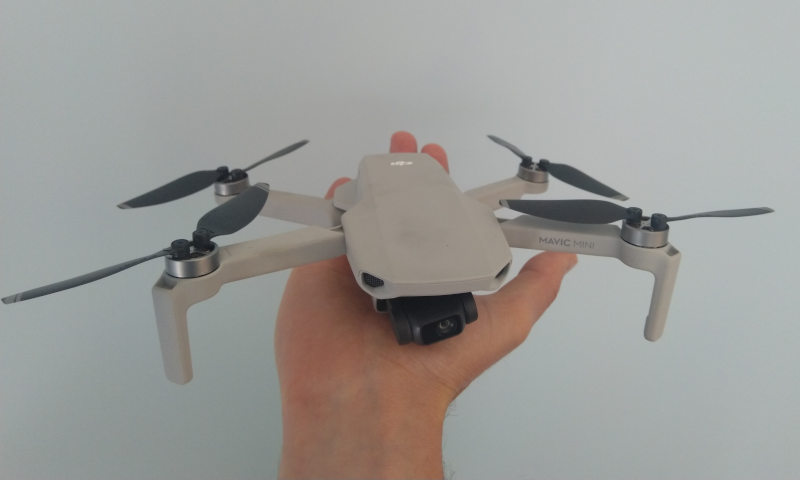 What is the Mavic Mini?
The Mavic Mini series are affordable drones that looks like a toy, and fits into the palm of your hand.
This 249g drone is about the same size as two hockey pucks.
It flies for 30 minutes; which is similar to the larger drones.
It has all the usual components such as a camera, remote control and 4 motors!
In short, it looks pretty much like the entire DJI Mavic line up, just much smaller.
What's New?
The Mavic Mini has been out since late 2019, so what's changed recently? As of early August 2020, third party apps can now control the drone enabling flight planning & mapping missions. However, most of the typical apps such as Pix4D Capture and DroneDeploy do not support the Mavic Mini. Currently, the two best autopilot apps for the Mini are Dronelink and DroneHarmony. Take a look at our complete review of 9 autopilot apps to decide which works best for you.
What are the Transport Canada Rules?
As a 249 gram drone this falls just under the 250g threshold for drone regulations set by Transport Canada. This means:
No RPAS pilot license is required.
No drone registration is required.
This makes it incredibly easy to buy a drone, and start flying legally.
The key rule applied by Transport Canada is section 900.06 of the Canadian Aviation Regulations.
No person shall operate a remotely piloted aircraft system in such a reckless or negligent manner as to endanger or be likely to endanger aviation safety or the safety of any person.

CARS 900.06
So stay away from airports and out of your neighbors yard. Keep your drone close to you and be responsible! DJI helps by setting limitations into the software that will prevent the Mavic Mini from flying close to certain aerodromes and airports.
How Well Does it Fly?
For the last few weeks we've been flying a lot. Both with the DJI Fly app and with the Dronelink app. We have to confess it's been a lot of fun. The Mavic Mini feels like the younger more relaxed sibling of the DJI lineup. Flying in a municipal setting was less stressful simply because of the increased safety of the tiny drone.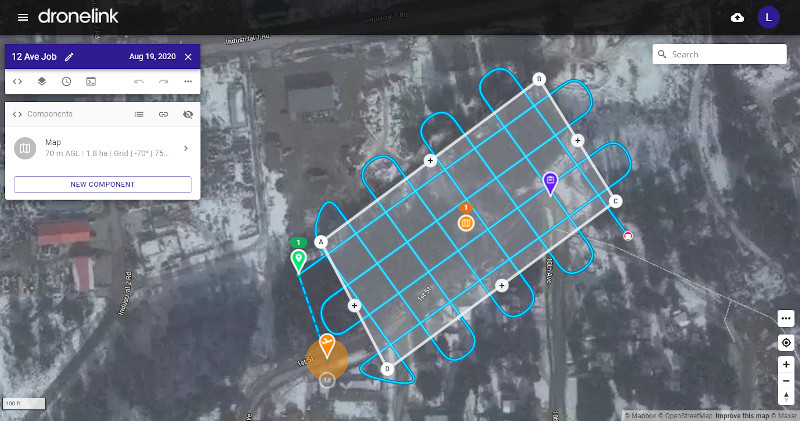 Overall mapping missions flow really well. Perhaps that has more to do with Dronelink than the Mavic Mini itself.
Dronelink uses virtual sticks approach rather than the waypoints approach. This is why it will work with the Mavic Mini and all other autopilot apps such as Drone Deploy, Pix4D Capture and Map Pilot do not work.
Is the Data Quality Good?
Our tests show that the Mavic Mini can achieve typical drone survey accuracy. This is done by using GCPs, high overlap and processing with rolling shutter correction.
In the test below the average difference in elevation between our GPS survey and Mavic Mini survey was 1 cm, and the standard deviation was 10 cm. Pretty good results for steep and vegetated terrain.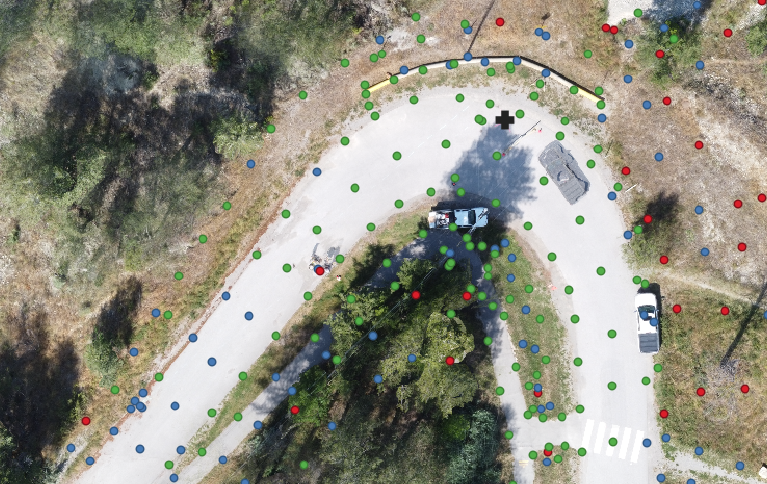 Additional accuracy testing has proven that the Mavic Mini paired with Civil Tracker is delivering survey grade results.
What Does the Mavic Mini Cost?
The Mavic Mini 2 is low-priced, costing only $519 CDN ($419 USD) for the basic kit and $699 CDN ($559 USD) for the Fly More Combo. While the Mavic Mini SE is even cheaper, costing only $380 CDN ($279 USD) for the basic kit and $459 CDN ($379 USD) for the Fly More Combo.
In our opinion, you'll definitely want the Fly More Combo. The extra cash is well worthwhile.
A typical DJI Phantom 4ProV2 or Autel Evo2 will cost 4 times as much as a Mavic Mini. The cost savings alone will empower a whole new generation of drone mappers and surveyors.
Support your local drone retailer and pick one up at a local shop, rather than Amazon!
Are there any Trade Offs?
You're probably asking at this point, "What are the trade-offs?" We have an affordable drone with survey capabilities weighing only 249 grams!
Absolutely, when compared to a larger more expensive drone, there are some noteworthy limitations.
The camera is a 12MP rolling shutter camera. This isn't as good as the Phantom 4 Pro camera and care needs to be taken when processing the data to get excellent results.
You'll want to fly the Mavic Mini at a lower altitude and slower speed compared with more expensive drones. This means it will take longer to map an area. However, you'll still map a 20 acre site in 10 minutes.
The light weight of this drone does make it more susceptible to wind. So choose calmer days to fly than you would with a Phantom 4 or M300.
Maintaining visibility while operating the Mavic Mini is harder due to its' small size. However, within the regulatory framework you do NOT need to keep this drone within line of sight.
Otherwise, you can fly this drone at the same temperatures as larger drones and complete mapping projects with the needed accuracy. Pretty impressive for a robot this small!
How about the Mini 2 & Mini SE?
We've been keeping this post up to date with additional information as the Mini series keeps expanding! In January 2022 DJI just provided Android SDK support for the Mini 2 and Mini SE. This is great news as we have all waited over a full year for DJI to open up the Mini 2 and Mini SE. Unfortunately, iPhone users will have to wait a few more months for the iOS SDK to be released.
What are the Benefits?
When pairing the Mavic Mini with Civil Tracker, landfill operators will be able to track compaction & airspace. While construction teams can measure progress, managers and engineers can safely view and inspect their sites remotely. Learn more about how Civil Tracker works
Get Started Now!
Making maps starts with collecting great data. Then upload to Civil Tracker software platform to visualize, measure and track your site. It's never been easier or cheaper!
Get started by signing up for a free Civil Tracker trial. Or connect directly to ask questions and learn more.