Either you've had the best intentions of getting your Drone Pilot License and you've been too busy. Or it wasn't even on your radar until recently.
Over the last few years I've worked with dozens of pilots to help them get trained and get licensed to fly drones legally in Canada. While making lots of mistakes along the way we've developed expertise and a successful road map. Hopefully this post helps you to get your license with minimum false starts and wasted effort.
Why get a Drone Pilot License?
But, in case you still need to convince yourself or the boss here's why you'll want a drone pilot license. On June 1st 2019 new rules came into place requiring an operator certificate for anyone flying a drone heavier than 249g. Yes, even if it's only for recreational use. Alright let's get legal!
Side note. The world of aircraft, government and drones is full of terminology. You'll end up with a Transport Canada Drone Pilot Certificate, not a Drone Pilot License.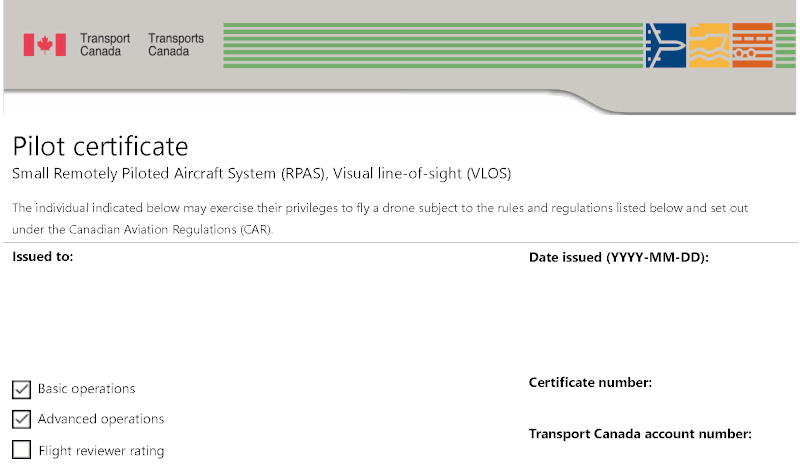 Basic vs. Advanced Drone Pilot License
Transport Canada broke drone operations into two categories. They are Basic Operations and Advanced Operations. It follows that you'll need a Basic Pilot Certificate for Basic Operations and so on. Which certificate do you need? That depends… But, I'm glad you asked! You'll need an Advanced Certificate if you want to operate within:
30m of bystanders.
5.6km of a registered airport with a certificate.
1.9km of a registered helidrome with a certificate
Controlled airspace.
Transport Canada's infographic is quite useful to find your drone category. But they've left out some information about the distances from aerodromes and heliports.
Going Above and Beyond
Many drone service companies and tier 1 clients require an Advanced Certificate regardless of the Transport Canada regulations. So, check and see if requirements will exceed Transport Canada's.
SFOC Operation
There are operations that exceed what can be done with an Advanced Operator Certificate and requires a Special Flight Operations Certificate (SFOC). Remember those? A few examples are flying:
Beyond Visual Line of Sight (BVLOS)
Great than 400 feet above ground level
Drones heavier than 25kg
Sports events and concerts etc.
Don't want to get your pilot certificate?
Transport Canada does not regulate drones under 250g. There is only one drone that I'm aware of under this weight threshold that comes even close to what is needed by surveyors and commercial operators. It's the DJI Mini series of drones including the Mini, Mini 2, and Mini SE.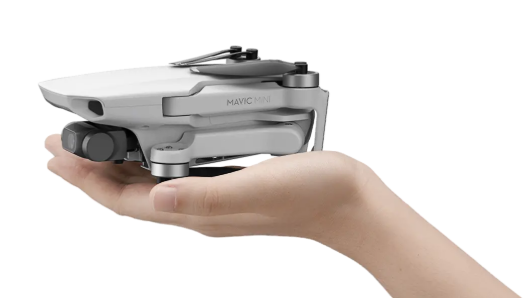 The Mini is being used by a whole new generation of drone mappers because of the excellent results Civil Tracker is producing and the low barrier to entry. We wrote an entire article addressing the question of Can I map and Survey with the Mavic Mini?
Now that you know which license you're going get, let's move on.
Ground School
I recommend taking ground school from a Transport Canada authorized provider for two reasons.
It is the easiest way to learn the information needed to pass the online exams.
It teaches us the foundations for safe and compliant drone operations.
You'll find a full list of ground schools on Transport Canada's Website. There were 96 last time I counted! If you can take an in person class go for it. It's always easiest to learn with others in a live class room setting.
Check out Land View's travelling training program that visits communities across Canada. If they're in your area I highly recommend Markus.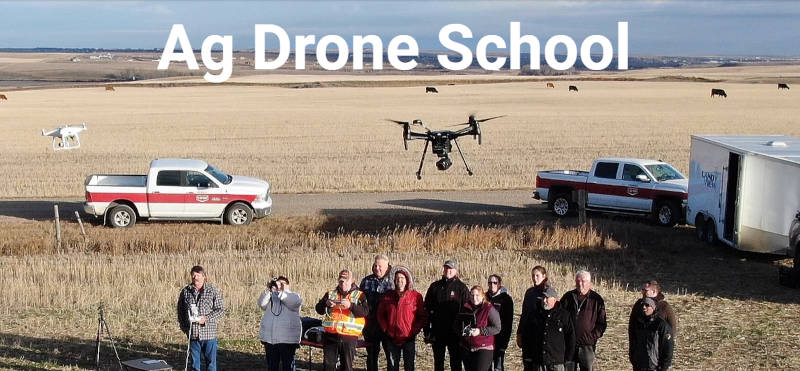 However with the pandemic, timing and budgets this may not be practical. The best alternative is to do a web based course. Coastal Drones has two great packages. The Basic Operations package takes about 8 hours to complete. The Advanced Operations package takes about 20 hours.
Online Exam
Now that you've completed ground school, studied hard and taken a few practice exams you're ready! Go to Transport Canada's Drone Safety Portal and ace the exam.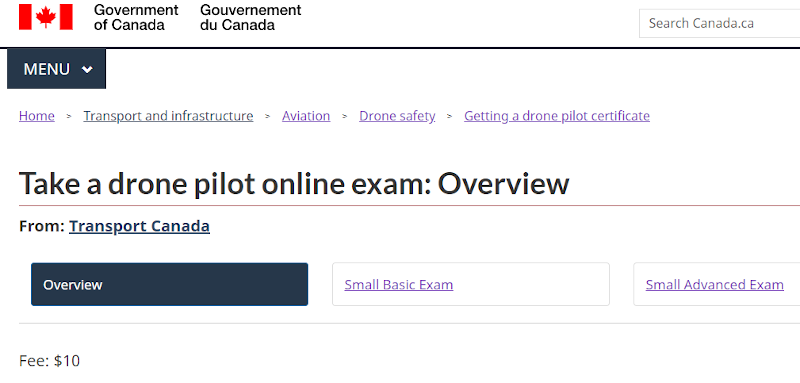 Once you pass the Basic Exam you'll be able to download you certificate immediately. If you are taking the Advanced exam, be warned that it's the hardest part of the process and the subject of many complaints. This is because Transport Canada has put many questions that feel irrelevant and extraneous to drone pilots. Unfortunately we don't get to make the exams, we just take them. If you don't pass the first time, don't feel discouraged, check out our article entirely focused on How to Pass the Transport Canada Advanced Exam.
Flight Review
The last step to get your Advanced Certificate is the Flight Review. It sounds a little intimidating, but it's not as bad as you may think. The goal of the Flight Review is not to have you complete complex maneuvers. Instead it is to confirm your identity, that you understand the rules and you can demonstrate that you will operate safely. If you've passed the exam and completed a number of flights and site surveys you'll have no trouble with the Flight Review. Most of the 96 flight schools mentioned above provide Flight Reviews.
Congratulations!
Completing your operator certification is a great accomplishment. Enjoy flying and have fun. For further information on setting up a full drone program check out our starter guide for all aspects of setting up a drone program including what hardware to buy, additional regulatory information and advice on software.